Technology That Solves All Your Problems
With the acceleration of change in the ways organizations handle online relationships, avoid the disruptions, simplify your online communication and automate your business with BiCRM.
BiCRM is our Business Intelligence Customer Relationship Management system that we personally use throughout our day-to-day online communications. It is the perfect fit for almost any company, trust us. With its clean and modern design, its simple and useful features and its never-ending benefits, it simultaneously helps you look more professional to your customers and help improve business performance.
Leads

Customers

Proposals

Invoices

Projects

Tasks

Support

Payments
BiCRM
What is Business Intelligence Customer Relationship Manager?
Customer relationship management (CRM) is a set of practices, strategies and technologies that companies use to manage and analyze customer interactions and data throughout the customer lifecycle, with the goal of improving business relationships with customers, assisting in customer retention and driving sales growth.
With our Business Intelligence touch, our BiCRM is available to automate the full process in a creative and innovative way that turn your leads into loyal customers with a single click.
Live screenshots from our BiCRM
Quick Preview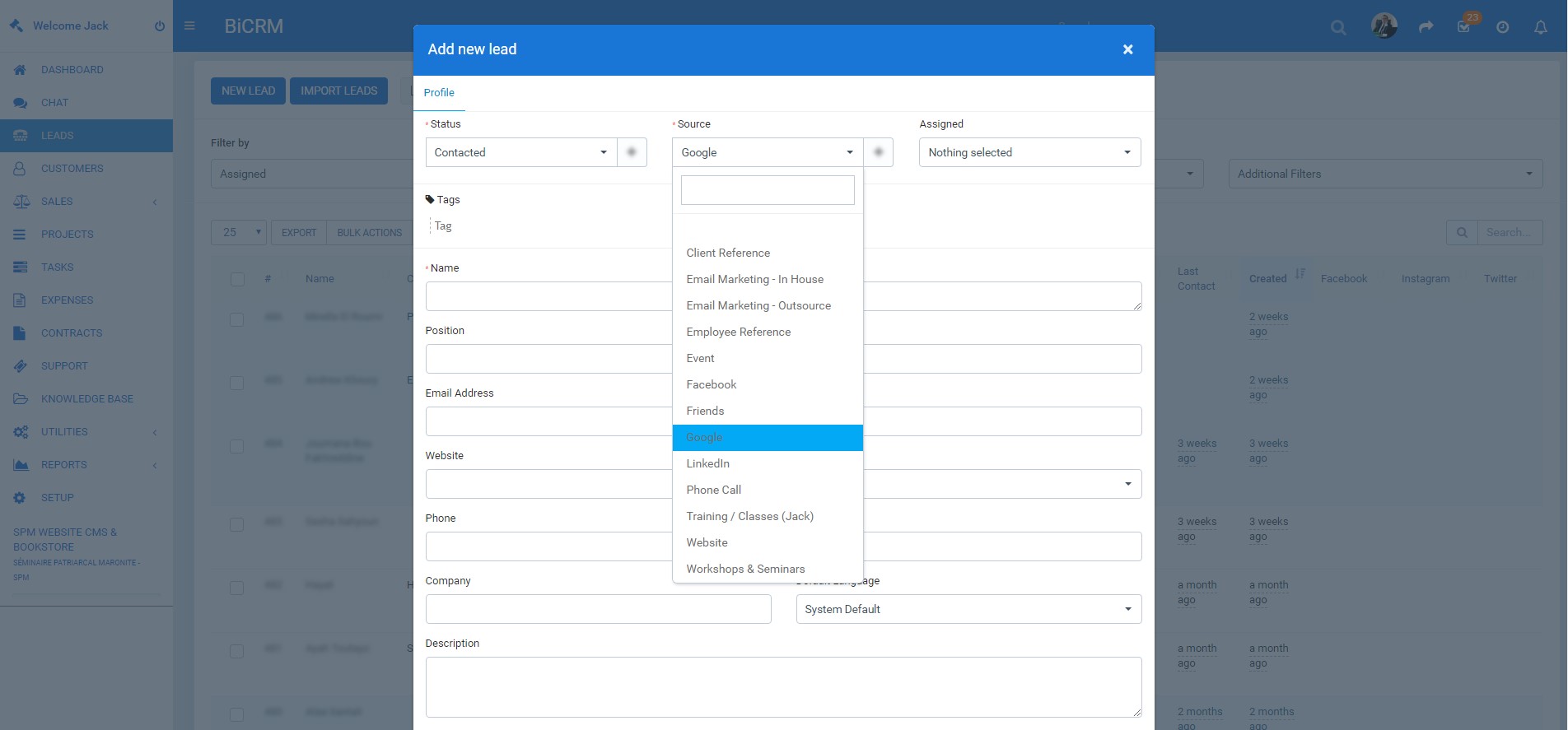 Lead Generation and Management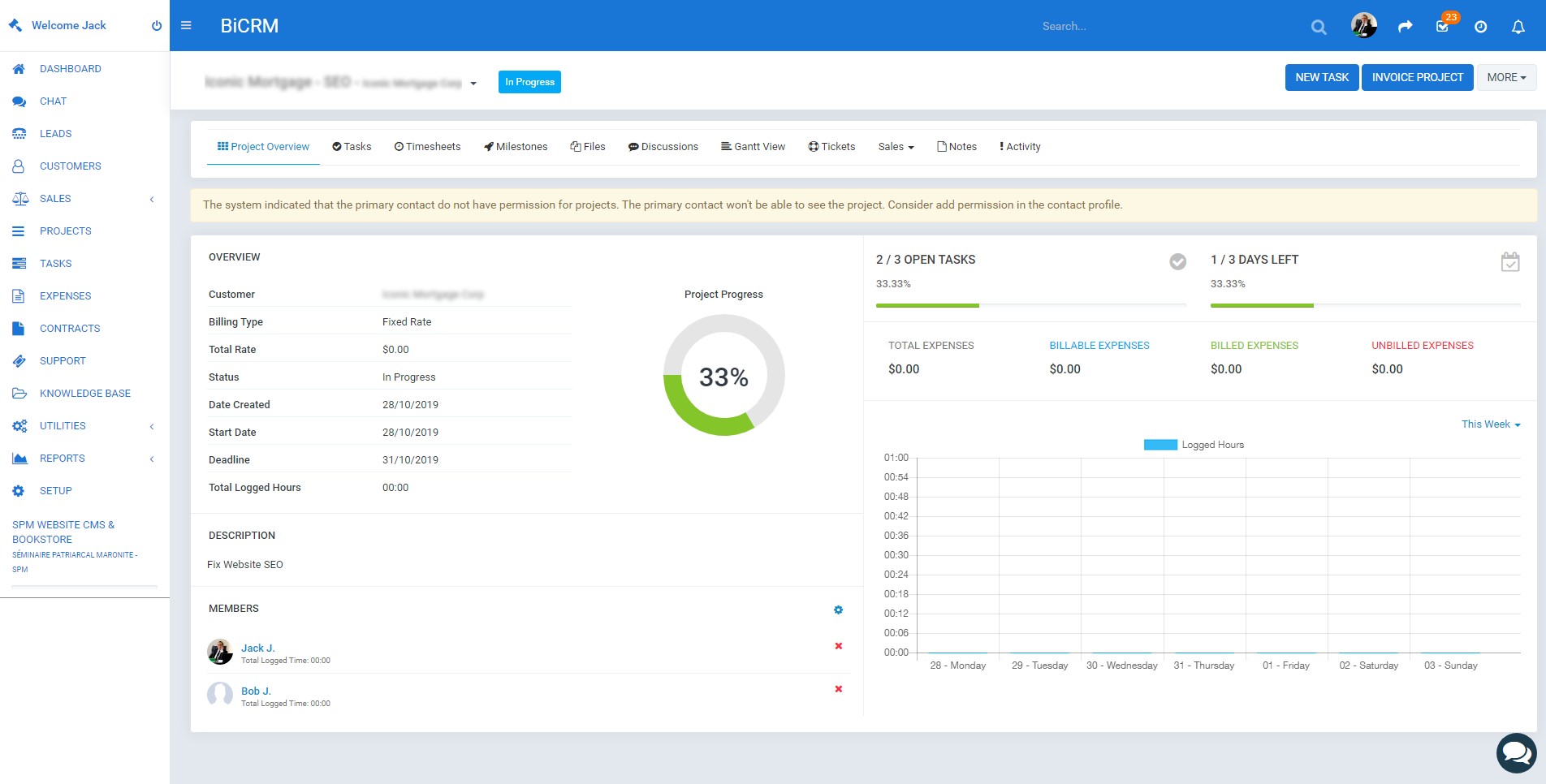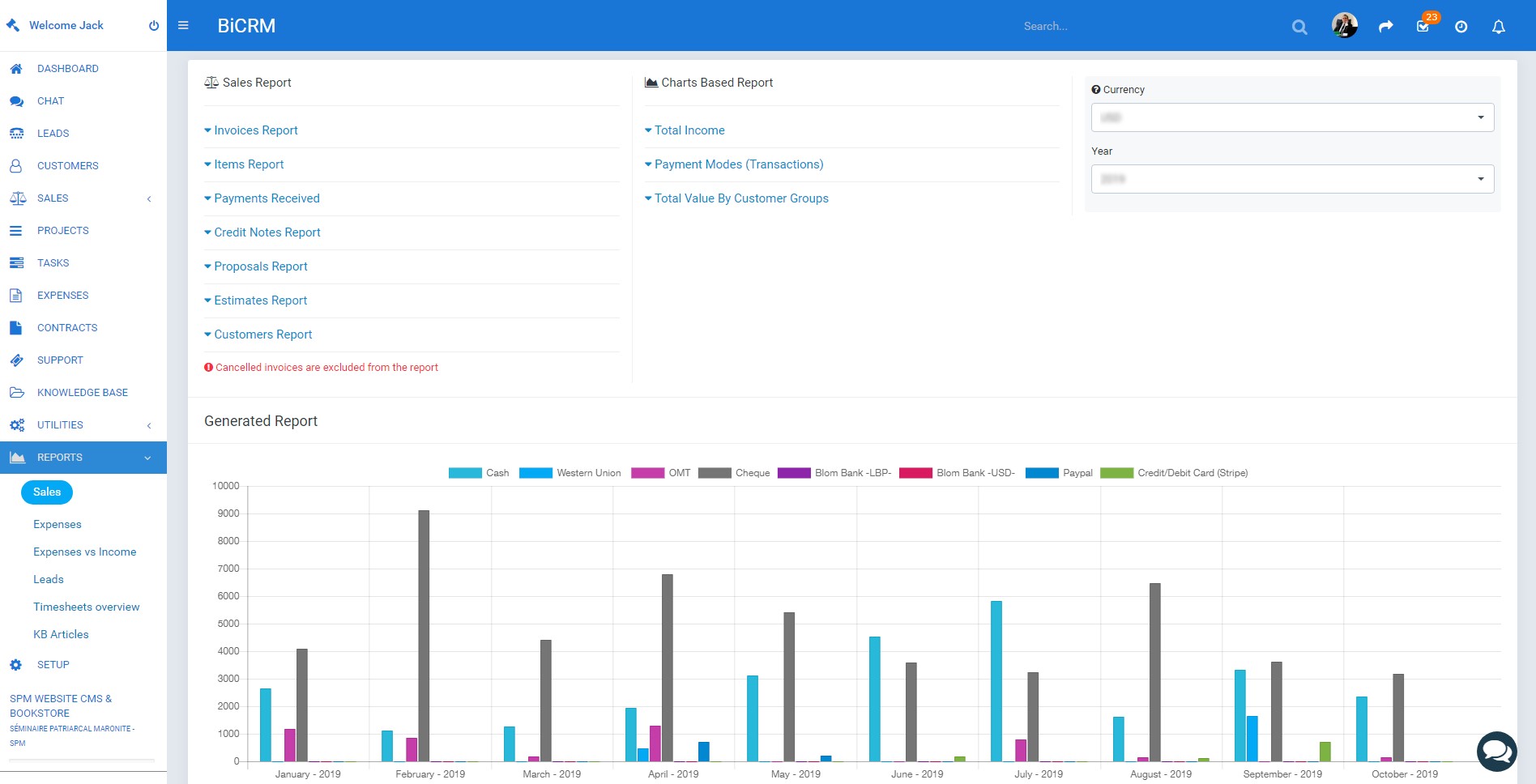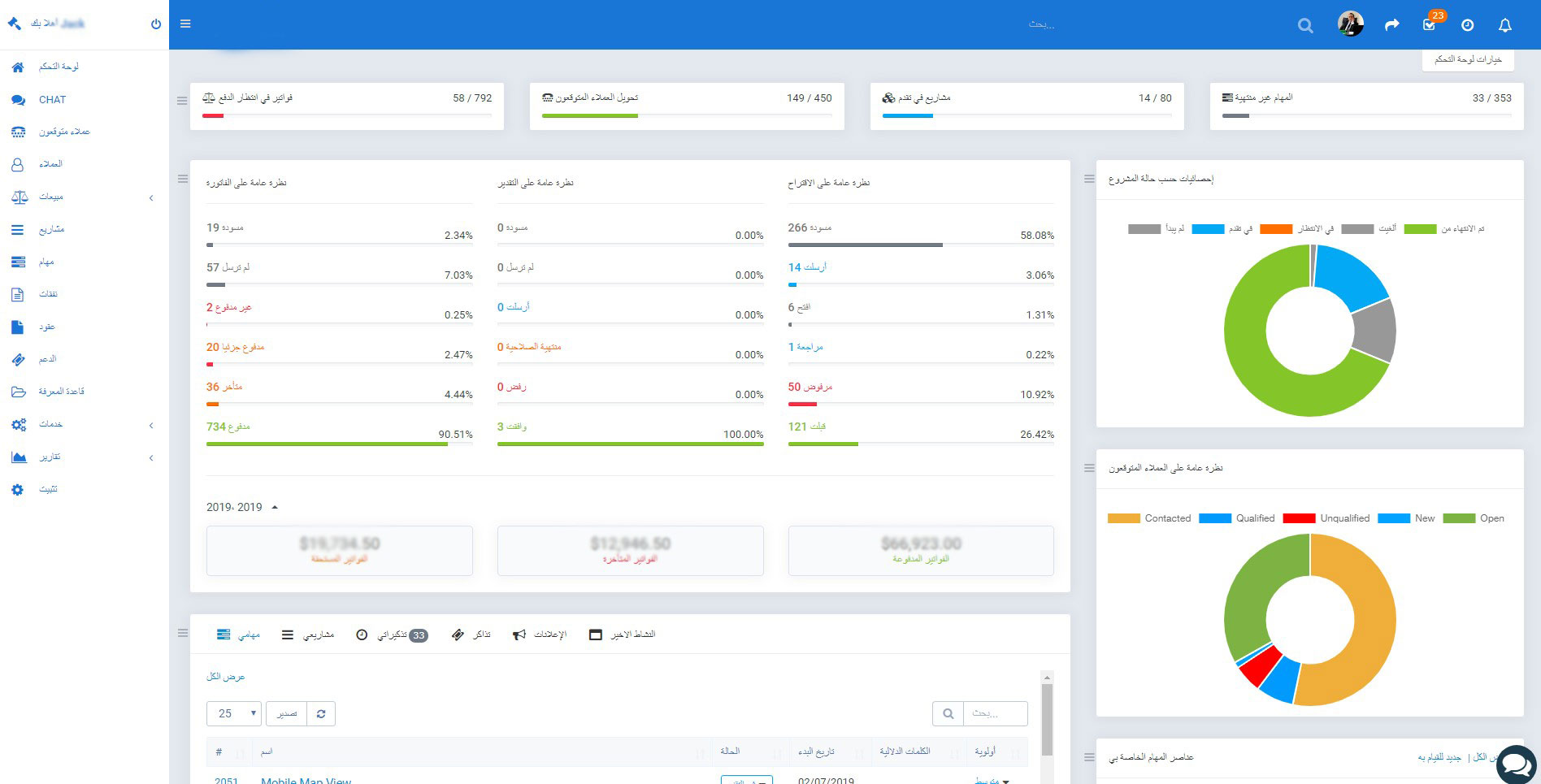 Multilingual – RTL Version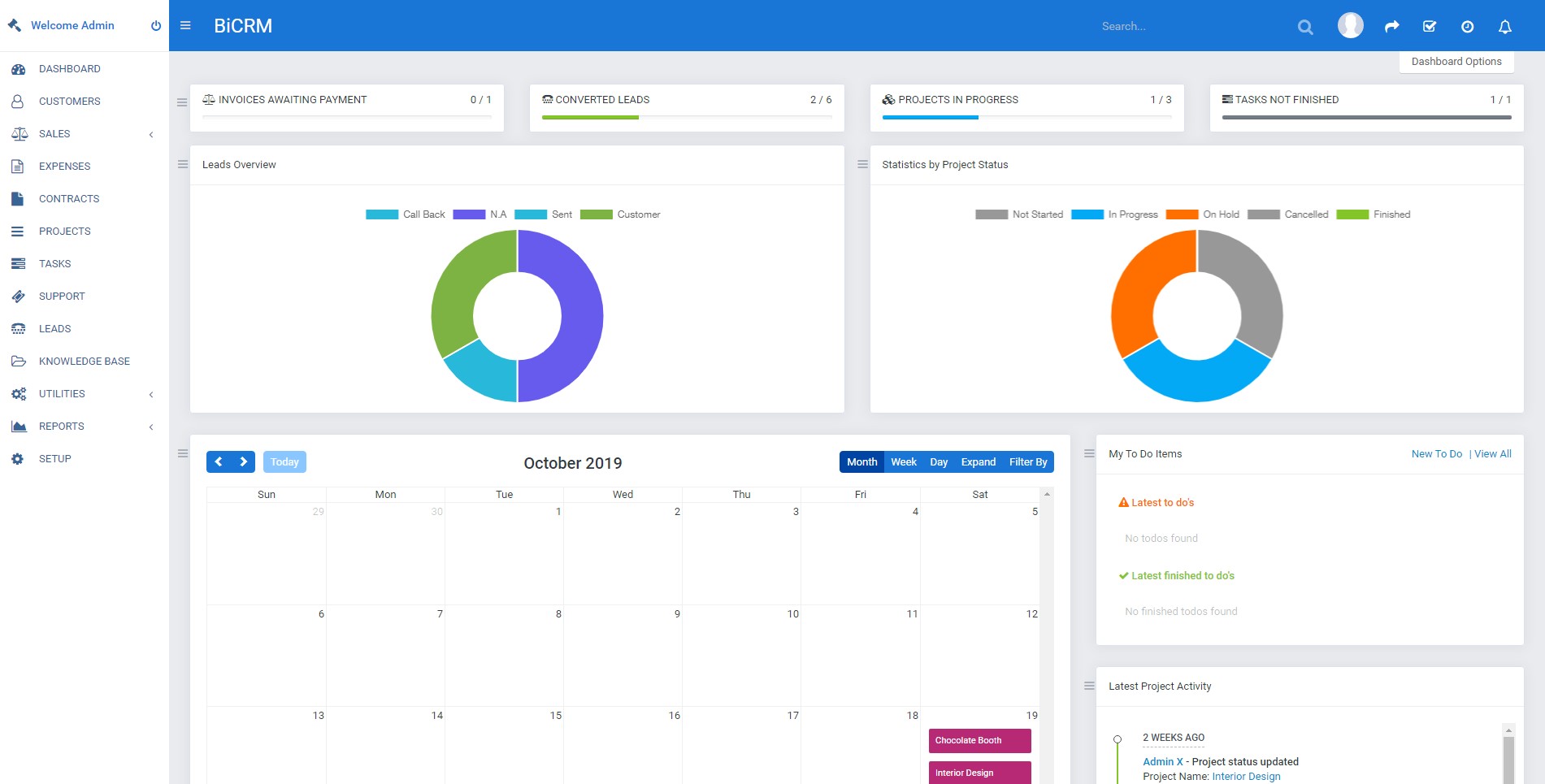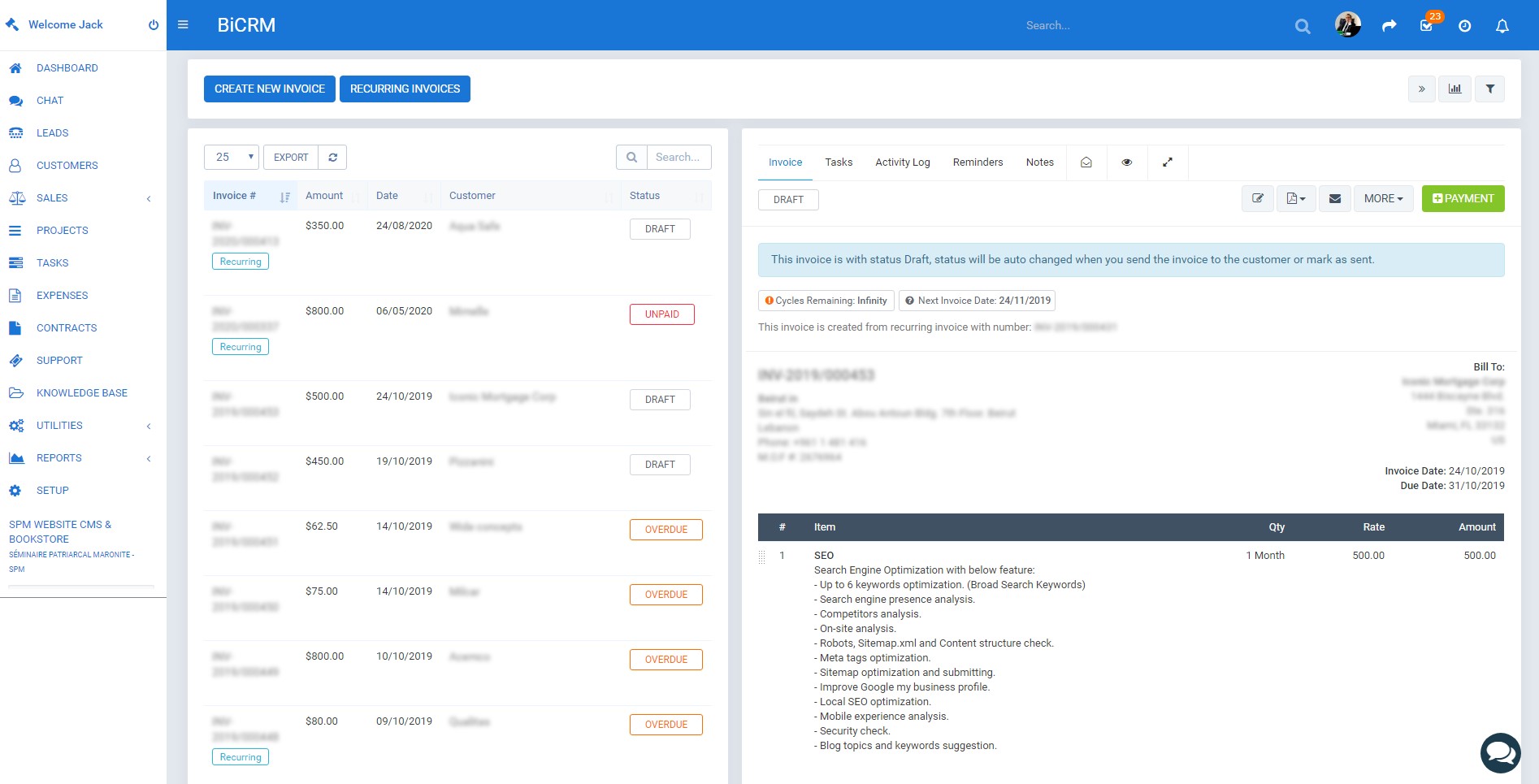 Invoice Manager and Online Payments
Digital Transformation
What makes BiCRM a must for all businesses?
Digital technology has transformed the scene of client engagement, commerce, marketing and more, in a way that controls every area of your business. Every company is now a technology company! This means managing your transition to a digitally driven business model isn't just critical to beating competitors, it's crucial for corporate survival.
BiCRM was especially created to help all types of business to achieve high levels of digital transformation.
A selection of hundreds of features
Main Features
Drop us a message.
Do you have any questions?
FAQs
What do you need to know.
Can I use BiCRM for my small business?
Whether you are a solopreneur, run a small business or large enterprise, BiCRM can absolutely help you organize your daily activities and effectively boost your business.
Our team has limited technology skills, can we still use BiCRM?
Absolutely, BiCRM is user-friendly and fully compatible with any business process. Our team is also ready to provide training, consultancy and support anytime during the setup and your daily work activity on the system.
Is BiCRM purchased as SAAS or Standalone version?
BiCRM is made as a hybrid version that gives you all the benefits of a Software-as-a-service model and a Standalone platform. In other words, you can have your own platform customization and pay as if you are purchasing a SAAS platform. Also, having unlimited power instead of paying a monthly per-user subscription.
Why Digital Transformation?
01
Acceleration of Change
The pace of digital change is rising exponentially, making it very difficult to maintain a position of industry leadership, and requiring an acceleration of new digital solutions brought to market. Keep up with the times!
02
Digital Competition
Companies are under ever increasing pressure to compete digitally, and long-established business models are being disrupted by "born digital" start-ups.
03
Customer Expectations
Customers expect a good experience across all touch points, you must ensure their interactions are seamless and exceptional.
Build your digital backbone with the best of the best!
Why us?
Control your online future. Grow your website traffic. Reach bigger opportunities .