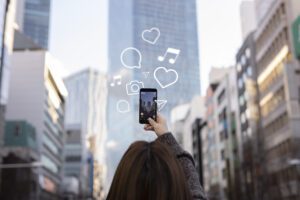 What's the first thing you do in the morning when you wake up? Most people answer that they check their phones and scroll through social media platforms. In fact, at least 3 billion people use social media worldwide in 2022. Thus, social media has become an integral part of our daily lives and businesses are flocking to it to reach customers. And businesses must stay on top of the latest marketing trends and updates on social media in a world of digital overload.
The social media landscape with its updated features and trends can feel never-ending and changes faster than a Power Ranger. If you're wondering what's new, what's trending, and what's not, you're definitely not alone. Below, we have listed the best social media trends in 2022:
1- TikTok is No.1 Platform 
TikTok has at least 1 billion monthly active users with an average of 89 minutes a day. More than half of Gen Z use TikTok globally. In addition, TikTok has launched several tools for business owners to expand their brands on the app such as their ad platform and business profiles. It's easy to reach youth customers by using the app's famous short-length entertaining videos. Also, the app inspires its users to purchase items after getting trendy on TikTok, thus helping these brands to grow.
2- Video Content Is Dominating
Now that TikTok's popularity is rising, it comes as no surprise that video content is dominating social media in 2022. The average person will spend at least one hour a day watching videos. Not to mention "Stories" are now widely applied on several social media platforms such as Instagram and Facebook. These videos include tutorials, comedy content, inspiring stories, and guides for beginners. These videos are both authentic and have low-budget production which is a part of the bigger appeal to consumers. Some companies have even claimed that more than half of video viewers will watch till the end if it's under a minute long.
3- Sustainability Is Valued
Customers are aware of climate change and this environmental issue is reflected in their purchase decision. The youth of today believe that sustainability must be a basic business practice.
4- Influencer Marketing Is Popular 
Brands are adopting influencer marketing since they are helping businesses to make more profits and expand faster. Influencers are believed to have a huge impact on customers' purchasing decisions. The main reason is that influencers are more relatable and authentic compared to celebrities. Also, followers tend to trust the influencer's opinion on items before purchasing them.
5- Social Media Platforms Are Customer Service Channels
It's getting more common for people to use social media as customer service and to drift away from traditional customer services such as phone calls and emails. In other words, social media can be a good platform to deliver customers' concerns, complaints, reviews, and suggestions. And in return, businesses can show that they care about their customers by responding to them.
6- Social Commerce Going Viral
Social commerce is when you buy and sell products or services via social media platforms. For example, on Instagram, people can purchase products they see on stories or posts and buy them immediately through the app without logging into websites. In addition, "Facebook Marketplace" enables users to buy and sell items.
Wrapping Up,
Social media plays a crucial part in our lives whether you use it for communication, marketing, or entertainment. If you have a business, you need to keep up with the latest updates and trends to create effective social media campaigns to reach your targeted audience. 
Related posts